Is firefighting not more than a profession? Many believe that it is a calling for the bravest souls. This path features danger and uncertainty every day, putting their lives on the line to save others. But with powerful firefighter prayers, one can sail through the chaos and peril. However, many firefighters find strength in prayers – and it works.
Since prayers are a beacon of hope, a source of comfort, and a reminder of the higher purpose they serve, we have developed 8 powerful prayers to strengthen one's firefighting spirit.
Firefighter Prayers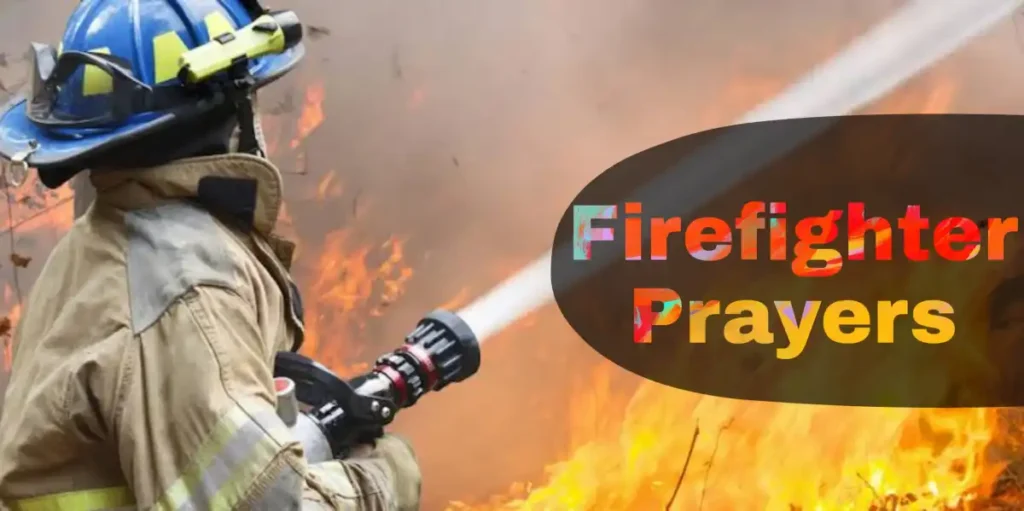 These prayers are Biblically inspired, and we have attached Bible verses to back the prayer points. Remember that it is not about the prayer but your openness about what you want and faith.
1. Prayer for Protection
Dear Heavenly Father,
We come before you today, asking for your protection over our brave firefighters. As they step into the flames, may they be shielded from harm, just as Shadrach, Meshach, and Abednego were protected in the fiery furnace (Daniel 3:16-28). May their suits be as armor, and their helmets a shield against the raging fires they face.
Lord, grant them the courage to face the fiercest of blazes, knowing that you are with them every step of the way.
---

Even though I walk through the valley of the shadow of death, I will fear no evil, for you are with me; your rod and your staff, they comfort me (Psalm 23:4).

---
Let this verse be a constant reminder that they are never alone in their battles.
Amen.
---
2. Prayer for Strength and Endurance
O Mighty God,
In the face of adversity, grant our firefighters the strength and endurance they need. As they carry heavy equipment, rescue victims, and battle relentless flames, may they be reminded of the strength of Samson (Judges 16:28-30) and the endurance of Paul (2 Corinthians 11:23-28).
---

Those who hope in the Lord will renew their strength. They will soar on wings like eagles; they will run and not grow weary, they will walk and not be faint (Isaiah 40:31).

---
Let this promise be the wind beneath their wings, giving them the energy and stamina required for their noble task.
May they also find solace in the words of Philippians 4:13: "I can do all things through Christ who strengthens me." Let this be their mantra, knowing that with Your divine power, they can overcome any challenge.
Amen.
---
3. Prayer for Wisdom and Guidance
Gracious Lord,
Firefighting is not just about physical strength; it requires wisdom and discernment. We pray these firefighter prayers that our firefighters are blessed with the wisdom of Solomon (1 Kings 3:5-14) as they make split-second decisions that can mean the difference between life and death.
Guide their steps, O Lord, and help them navigate through the smoke and chaos.
---

Your word is a lamp to my feet and a light to my path (Psalm 119:105).

---
May they always turn to You for guidance, trusting that You will lead them safely through the storm.
In moments of doubt or uncertainty, remind them of Proverbs 3:5-6: "Trust in the Lord with all your heart, and do not lean on your own understanding. In all your ways acknowledge him, and he will make straight your paths." Let them always seek Your wisdom above all else.
Amen.
---
4. Prayer for Comfort and Healing
Compassionate Savior,
In the aftermath of a fire, our firefighters often witness scenes of devastation and loss. We pray for their emotional and physical well-being, that they may find comfort in Your loving embrace. Just as Jesus healed the sick and comforted the broken-hearted, we ask that You extend Your healing touch to our brave men and women.
---

Blessed are those who mourn, for they shall be comforted" (Matthew 5:4).

---
In times of sorrow, may they find solace in Your promises and the knowledge that they are not alone. Heal their wounds, both visible and invisible, and grant them peace.
We also pray for the families of our firefighters. Surround them with Your love and protection, and let them find strength in the words of Psalm 34:18: "The Lord is close to the broken-hearted and saves those who are crushed in spirit."
Amen.
---
5. Prayer for Unity and Teamwork
Loving Creator,
In the heat of the moment, when every second counts, we pray for unity and teamwork among our firefighters. Just as the early disciples came together in unity (Acts 2:44-46), may our firefighters work seamlessly as one, supporting and uplifting each other.
---

Two are better than one, because they have a good return for their labor: If either of them falls down, one can help the other up (Ecclesiastes 4:9-10).

---
Let this be a testament to the power of unity. May they always remember that together, they are stronger and more effective in their mission to save lives.
Amen.
---
6. Prayer for Families Waiting at Home
Merciful Father,
We lift up the families of our firefighters using the firefighter prayers, those who wait anxiously at home, hoping for the safe return of their loved ones. Grant them patience and peace, knowing that their loved ones are under Your watchful eye. Just as You watched over the families of Israel (Exodus 13:21-22), keep a protective hand over these families.
---

Peace I leave with you; my peace I give you. I do not give to you as the world gives. Do not let your hearts be troubled and do not be afraid (John 14:27).

---
May these words bring solace to their hearts, knowing that in You, they can find true peace.
Amen.
---
7. Prayer for Resilience in the Face of Loss
Everlasting Comforter,
There are times when, despite their best efforts, our firefighters face loss. In these moments of grief and despair, we pray for resilience and strength. Remind them of Job's unwavering faith (Job 1:21) and how, even in his suffering, he praised Your name.
---

The Lord gave, and the Lord has taken away; blessed be the name of the Lord (Job 1:21).

---
Let this be a reminder that in every situation, good or bad, You are sovereign. Grant them the grace to accept what they cannot change and the resilience to continue their noble work.
Amen.
---
8. Prayer for Renewed Passion and Dedication
O Source of All Inspiration,
In the midst of challenges and the routine of their duties, we pray that our firefighters never lose their passion and dedication. Reignite the flame within them, just as the Holy Spirit descended upon the apostles (Acts 2:3-4), filling them with zeal and purpose.
---

Do not be slothful in zeal, be fervent in spirit, serve the Lord (Romans 12:11).

---
May this verse and firefighter prayers inspire them to approach their duties with renewed energy and commitment, always striving to be the best versions of themselves in service to others.
Amen.
What is the Firefighter Prayer Verse?
In the heart of roaring flames and amidst the smoke's thick haze, a firefighter stands tall, guided by faith and divine grace. Drawing strength from the scriptures, they recall the words of Isaiah 43:2:
---

When you pass through the waters, I will be with you; and when you pass through the rivers, they will not sweep over you. When you walk through the fire, you will not be burned; the flames will not set you ablaze.

---
This verse serves as a protective shield, a reminder that the Almighty is always by their side, even in the face of danger. Just as the Lord was with Shadrach, Meshach, and Abednego in the fiery furnace (Daniel 3:16-28), He stands with every firefighter, guiding their steps and watching over them.
What is the Prayer for Volunteer Firefighters?
Heavenly Father,
We lift up to You our selfless volunteer firefighters, who give of their time and energy to protect our communities. Just as the Good Samaritan showed compassion without expecting anything in return (Luke 10:33-35), these brave souls step forward, asking for nothing but the chance to serve.
Lord, bless them with Your protection as they face the unpredictable flames. May you create a shield around them, ensuring their safety.
Grant them strength, wisdom, and courage in every situation. May they always feel Your presence, guiding their actions and decisions. And as they return to their families and daily lives, let them find rest and peace in Your embrace.
In Your name, we pray.
Amen.
How Do You Pray for First Responders?
1. Pray for Protection
First and foremost, pray for the safety of our first responders. Ask God to shield them from harm as they face dangerous situations. You can draw inspiration from Psalm 91:11:
---

For He will command His angels concerning you to guard you in all your ways.

---
Imagine God's angels surrounding and protecting each first responder as they go about their duties.
2. Pray for Strength and Courage
You should also pray that God grants them the strength of Samson and the courage of David when he faced Goliath. Remember the words of Isaiah 41:10:
---

So do not fear, for I am with you; do not be dismayed, for I am your God. I will strengthen you and help you; I will uphold you with my righteous right hand.

---
3. Pray for Wisdom and Discernment
First responders often have to make split-second decisions that can mean the difference between life and death. Pray that they are given the wisdom of Solomon, enabling them to make the best choices in high-pressure situations. Proverbs 2:6 reminds us:
---

For the Lord gives wisdom; from His mouth come knowledge and understanding.

---
4. Pray for Emotional Well-being
The traumatic scenes first responders often witness can take a toll on their emotional health. Lift them up in prayer, asking God to grant them peace and healing.
Don't forget "family" in your prayer. Behind every first responder is a family that waits, hopes, and prays for their safe return. Pray for these families, asking God to comfort them and give them strength.
5. Pray for Unity Among First Responders
Teamwork is necessary during emergency situations. Therefore, you want to pray that first responders work in unity, support, and uplift each other through the struggle.
What Psalms are for First Responders?
Psalm 91
---

He will cover you with his feathers, and under his wings you will find refuge; his faithfulness will be your shield and rampart (Psalm 91:4).

---
Psalm 23
---

Even though I walk through the valley of the shadow of death, I will fear no evil, for you are with me; your rod and your staff, they comfort me (Psalm 23:4).

---
Psalm 121
---

The Lord will keep you from all harm— he will watch over your life (Psalm 121:7).

---
Read also: Monday Morning Prayer for the Week Ahead [with Bible Verses]