It is the beginning of a new week, and what you need now is a prayer for the week ahead – very important. You need to arm yourself with prayers because you will need spiritual guidance in your potential decisions as well as judgments, be it for work or personal situations.
Also, the prayer should not be just about you; remember to include others, such as your family members, colleagues at work, your manager, and even customers.
That said, we have been inspired to develop prayer plans for you. Like you, we also prepare for the week ahead, so we understand the prayer requirements to scale through the weekly hurdles. Alongside these prayer points are Bible verses as a backup.
Prayer for the Week Ahead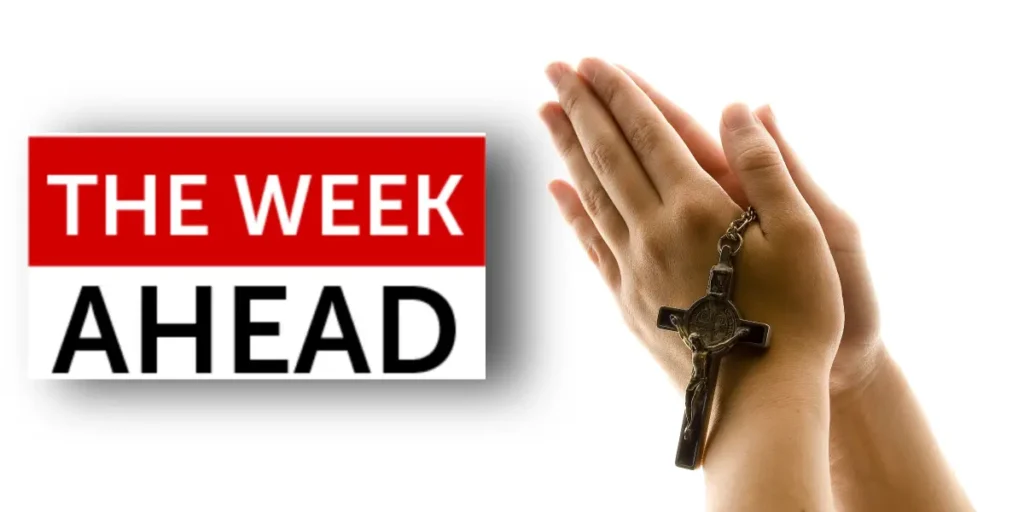 1. Prayer for Guidance and Wisdom
Dear Heavenly Father,
As I step into this new week, I humbly ask for Your guidance in every decision I make. Let Your wisdom be the compass that directs my thoughts and actions. When I face challenges and uncertainties, remind me to seek Your counsel first. Help me to discern between right and wrong, and to choose the path that aligns with Your will.
If any of you lacks wisdom, let him ask God, who gives generously to all without reproach, and it will be given him.
Lord, grant me the patience to listen, the strength to understand, and the courage to act on Your wisdom. Let my actions reflect Your love and grace, and may I serve as a beacon of Your light in the world.
---
2. Prayer for Strength and Endurance
Gracious God,
The week ahead may be filled with tasks that challenge my strength, both physically and mentally. I pray that You fortify me with the endurance to face these challenges head-on. When I feel weak or overwhelmed, let me find solace in Your presence, knowing that You are my rock and my fortress.
But those who hope in the LORD will renew their strength. They will soar on wings like eagles; they will run and not grow weary, they will walk and not be faint.

– Isaiah 40:31
May I remember that with You by my side, I can overcome any obstacle. Grant me the perseverance to continue pushing forward, even when the road ahead seems long and arduous.
---
3. Prayer for Protection and Safety
Loving Father,
As I navigate through this week, I pray for Your protective hand to be upon me and my loved ones. Shield us from harm, whether it be physical, emotional, or spiritual. In moments of danger or uncertainty, let us feel Your presence, comforting and assuring us that we are under Your watchful eye.
The LORD is my light and my salvation; whom shall I fear? The LORD is the stronghold of my life; of whom shall I be afraid?

– Psalm 27:1
Lord, protect my mind from negative thoughts and my heart from harmful intentions. Surround me with Your angels, and let Your love be the barrier that keeps all adversities at bay.
---
4. Prayer for Love and Compassion
Merciful God,
In this week ahead, open my heart to the needs of those around me. Let me be a vessel of Your love, showing compassion to those who are hurting, lending a listening ear to those who need to be heard, and offering a helping hand to those in need.
A new command I give you: Love one another. As I have loved you, so you must love one another.

– John 13:34
Help me to see others through Your eyes, recognizing the inherent worth and dignity in every person. May my actions and words be a testament to Your boundless love, and may I strive to love unconditionally, just as You love me.
---
5. Prayer for Gratitude and Contentment
Bountiful Lord,
As I embark on this week, let me approach each day with a heart full of gratitude. Help me to recognize the countless blessings You bestow upon me, even in the smallest of moments. In times of abundance and in times of scarcity, let me always find reasons to give thanks.
Give thanks in all circumstances; for this is God's will for you in Christ Jesus.

– 1 Thessalonians 5:18
Teach me contentment, Lord. Let me find joy in the present, cherishing each moment and every experience. May I always remember that true happiness comes not from worldly possessions, but from a heart that is content and grateful for Your love and grace.
---
6. Prayer for a New Week for Myself
Dear Lord,
As I stand on the threshold of a new week, I offer myself to You. Guide my thoughts, words, and actions so that they may reflect Your love and righteousness. Bless my endeavors, and grant me the wisdom to prioritize what truly matters. Let this week be a testament to Your work in me.
Commit to the LORD whatever you do, and he will establish your plans.
---
7. Prayers for Every Day of the Week
| Day | Prayer | Verse |
| --- | --- | --- |
| Sunday | Heavenly Father, on this day of rest and worship, I seek Your presence. Refresh my spirit and prepare me for the week ahead. | "Come to me, all you who are weary and burdened, and I will give you rest." – Matthew 11:28 |
| Monday | Lord, as I step into a new workweek, grant me the strength and determination to face challenges with grace. Let Monday be a day of new beginnings. | "The steadfast love of the LORD never ceases; his mercies never come to an end; they are new every morning." – Lamentations 3:22-23 |
| Tuesday | Father, bless my endeavors today. May I be productive and find joy in my tasks, knowing that I am serving a greater purpose. | "Whatever you do, work at it with all your heart, as working for the Lord, not for human masters." – Colossians 3:23 |
| Wednesday | Midway through the week, I seek Your guidance, O Lord. Renew my energy and passion, and lead me on the path of righteousness. | "Guide me in your truth and teach me, for you are God my Savior, and my hope is in you all day long." – Psalm 25:5 |
| Thursday | Gracious God, as the week progresses, let me not lose sight of Your grace. Help me to be patient, understanding, and kind to those around me. | "Be completely humble and gentle; be patient, bearing with one another in love." – Ephesians 4:2 |
| Friday | Lord, as the workweek draws to a close, I thank You for Your provision and care. Let me find rest and rejuvenation in Your presence. | "In peace I will lie down and sleep, for you alone, LORD, make me dwell in safety." – Psalm 4:8 |
| Saturday | On this day, I reflect on the week gone by and look forward to the next. Bless my weekend, Lord, and let it be a time of joy and fellowship. | "Rejoice always, pray continually, give thanks in all circumstances; for this is God's will for you in Christ Jesus." – 1 Thessalonians 5:16-18 |
---
8. New Week Prayers and Blessings
Blessed Father,
As we usher in a new week, I pray for Your blessings to overflow in our lives. May each day be filled with joy, peace, and prosperity. Guard our steps, and let Your favor shine upon us.
The LORD bless you and keep you; the LORD make his face shine on you and be gracious to you; the LORD turn his face toward you and give you peace.

– Numbers 6:24-26
---
9. Prayer for the Week Ahead
Lord of All,
I dedicate this week to You. Guide my actions, bless my endeavors, and let Your will be done in all things. Protect me from harm, and grant me the wisdom to navigate challenges with grace.
Trust in the LORD with all your heart and lean not on your own understanding; in all your ways submit to him, and he will make your paths straight.

– Proverbs 3:5-6
---
10. Monday Prayer Message
Dear Lord,
As we embrace this Monday, let it be a day of new beginnings and fresh starts. Bless our efforts, guide our decisions, and let Your love be evident in all we do. May this Monday set the tone for a week filled with blessings and breakthroughs.
This is the day the LORD has made; let us rejoice and be glad in it.

– Psalm 118:24
---
11. Prayer for Unity and Fellowship
Heavenly Father,
In this week ahead, I pray for unity among my family, friends, and community. Let divisions be mended, misunderstandings be clarified, and bonds be strengthened. May we come together in fellowship, celebrating our shared faith and love for You.
How good and pleasant it is when God's people live together in unity!

– Psalm 133:1
Lord, help us to set aside our differences and focus on what unites us. Let our interactions be filled with love, patience, and understanding, reflecting the unity that You desire for all Your children.
---
12. Prayer for Patience and Tolerance
Lord of Grace,
As I face the challenges of the week, grant me the patience to deal with situations and people that test my limits. Help me to respond with grace and understanding, even when faced with adversity or provocation.
Be completely humble and gentle; be patient, bearing with one another in love.
Teach me tolerance, Lord. Let me embrace the diversity of thoughts, beliefs, and backgrounds, understanding that each person is a unique creation of Yours, deserving of respect and kindness.
---
13. Prayer for Clarity and Focus
Omniscient God,
Amid the noise and distractions of the week, I seek clarity of mind and purpose. Guide my thoughts and help me focus on the tasks at hand, ensuring that I give my best in all that I undertake.
Your word is a lamp to my feet and a light to my path.

– Psalm 119:105
Help me to prioritize my responsibilities, keeping my eyes fixed on You and the purpose You have set for me. Let not the chaos of the world cloud my vision, but instead, grant me clarity to see Your will in all things.
---
14. Prayer for Humility and Servitude
Benevolent Father,
As I go about my week, instill in me a spirit of humility. Let me remember that I am but a small part of Your vast creation, and yet, You value and love me immensely. Help me to serve others selflessly, putting their needs above my own.
Do nothing out of selfish ambition or vain conceit. Rather, in humility value others above yourselves. – Philippians 2:3
May I approach each day with a servant's heart, seeking to make a difference in the lives of those around me, just as Jesus did during His time on earth.
---
15. Prayer for Hope and Optimism
Everlasting God,
In times of doubt and uncertainty, be my beacon of hope. As I face the ups and downs of the week, fill my heart with optimism, trusting that Your plans for me are for good and not for harm.
For I know the plans I have for you," declares the LORD, "plans to prosper you and not to harm you, plans to give you hope and a future.

– Jeremiah 29:11
Let me see the silver lining in every cloud, and the opportunity in every challenge. May my hope in You be unwavering, knowing that with You, all things are possible.
You also want God to take away elements of unfair treatment at work.
---
16. Prayer for Healing and Restoration
Compassionate Healer,
As I journey through this week, I bring before You the wounds and pains, both seen and unseen, that I or those around me may be carrying. I pray for Your healing touch to mend broken hearts, restore health, and rejuvenate weary souls.
He heals the brokenhearted and binds up their wounds.

– Psalm 147:3
May Your restorative power flow through every aspect of our lives, bringing renewal and transformation. Let us find comfort in Your embrace, knowing that You are the ultimate healer and restorer of all things.
---
17. Prayer for Generosity and Kindness
Generous Provider,
Inspire in me a heart that gives freely, without expecting anything in return. As I encounter various situations this week, let me be a reflection of Your boundless generosity and kindness, reaching out to those in need and sharing the blessings You've bestowed upon me.
Each of you should give what you have decided in your heart to give, not reluctantly or under compulsion, for God loves a cheerful giver.

– 2 Corinthians 9:7
Guide me to act with genuine kindness, seeing the needs of others and responding with compassion. May my actions be a testament to Your endless love and generosity.
---
18. Prayer for Trust and Faithfulness
Faithful God,
In moments of doubt or fear this week, anchor my heart in unwavering trust in You. Let me remember Your faithfulness in the past and hold onto the promise that You will never forsake me.
Trust in the LORD with all your heart and lean not on your own understanding; in all your ways submit to him, and he will make your paths straight.

– Proverbs 3:5-6
Help me to remain steadfast in my faith, even when circumstances seem bleak. Strengthen my trust in Your plans and timing, and let my life be a testament to Your unwavering faithfulness and love.
How Do You Pray for a Good Week Ahead?
1. Begin with Gratitude
Start your prayer by thanking God for blessings in the past week.
Thank you, Lord, for the blessings and lessons of the past week.
Now, you can ask God to guide your steps in the coming week. This can be in terms of making decisions, choosing paths, or seeking clarity in confusing situations.
Lord, guide my steps this week. Let Your wisdom be my compass, directing me in every decision I make.
2. Request Heavenly Protection and Wisdom
Seek protection from any harm, be it physical, emotional, or spiritual. This can include protection for loved ones and those you care about.
Father, shield me and my loved ones from any harm this week. Protect our minds, bodies, and spirits.
You can also pray for strength and endurance considering that the week ahead may have its own challenges. Pray for the strength to face them and the endurance to push through.
You also want to seek wisdom going into the new week to help you where you need to make decisions or judgments. It can be during personal situations, at work, or in interactions with others.
Bestow upon me Your wisdom, Lord, so I may act with insight and understanding.
3. Pray for Others
Remember to include others in your prayers. This can be family, friends, colleagues, or even strangers who might need divine intervention.
You can render a simple prayer for the week ahead for others like, "I lift up my family, friends, and all those in need of Your touch this week. Bless them, protect them, and guide them."
4. Pray for Personal Growth
Pray for personal growth, be it spiritual, emotional, or mental. Ask for opportunities to learn and grow.
May this week be a time of growth and learning for me. Help me to be open to the lessons You have in store.
5. Surrender Your Worries
If there is something specific that is worrying you about the week ahead, lay it before God. Surrender your anxieties and trust that you'll be taken care of. Below is a brief prayer template:
I lay before You my worries about [specific situation]. I trust in Your plan and timing.
6. End with Affirmation
Conclude your prayer with a statement of trust and faith, affirming that you believe in the power of the prayer and in God's ability to guide you.
I trust in Your love and guidance, Lord. With You by my side, I am confident that the week ahead will be blessed.
And end your prayer with "Amen".
You do not need beautiful words to render a powerful prayer for the week ahead – just say your prayer wholeheartedly and depart into a new, blissful week.
Read also: Prayers Against Confusion and What the Bible Says