It's a caring thing to do when you render powerful prayers for family and friends – it shows evidence of "one big family". Moreover, you are watching the back of your relatives to strengthen their spiritual lives. Family and friends typically form an important part of our lives. And so, whether it is joyful times, strife, or uncertainty, prayer is a factor you need for positive continuity.
In this realm of care and concern, we have developed inspired Bible-powered prayers that call on God to take control of your friends as well as family members. You may not always be aware of what they go through – they don't reveal everything, of course. But irrespective of the situation, prayers can do wonders.
Powerful Prayers for Family and Friends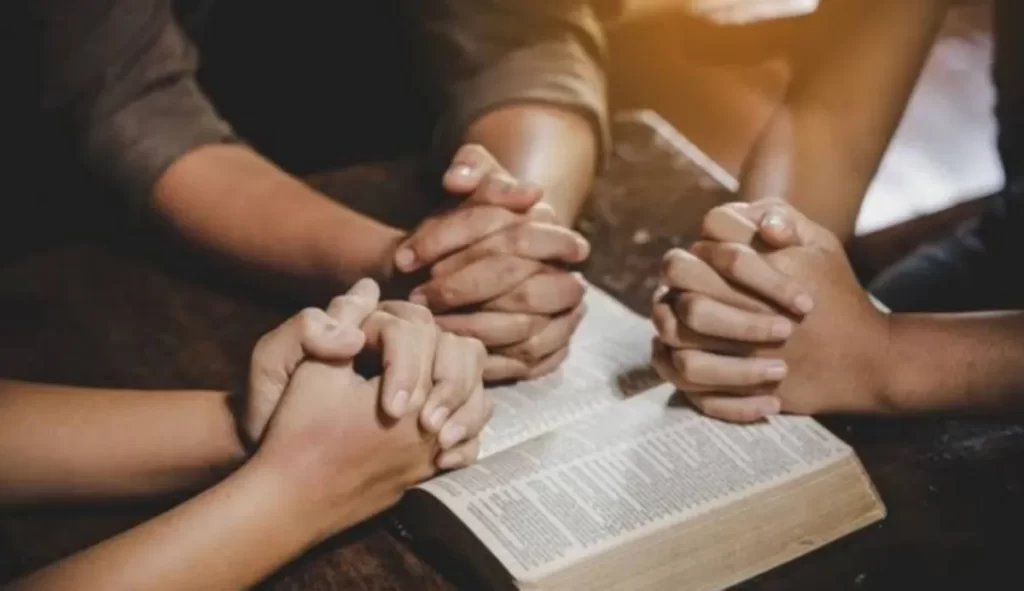 Below are the prayers we picked for you – with relevant Bible verses you can make reference to guide your prayer points.
1. Prayer for Peace and Harmony
Dear Heavenly Father, I ask for your divine intervention to bring peace and harmony in my family. Let your spirit of love and unity dwell among us, bringing us closer together in love for each other and for you. In times of conflict, may we find in our hearts the capacity to forgive, just as you forgive our sins.

Amen
"How good and pleasant it is when God's people live together in unity!" (Psalm 133:1)
2. Prayer for Protection – (best powerful prayers for family and friends)
Lord, I ask for your shield of protection over my friends and family. Let no harm befall them. Please protect them from any physical, emotional, or spiritual danger. In their journeys, may they walk under the shadow of your wing, finding solace and protection in your presence.

Amen
"He will cover you with his feathers, and under his wings you will find refuge; his faithfulness will be your shield and rampart." (Psalm 91:4)
3. Prayer for Guidance
Gracious God, I pray for your wisdom and guidance to be upon my loved ones. Help them make decisions that align with your will.

In every step they take, may they find your Word to be the lamp that lights their path, guiding them towards righteousness and truth.

Amen
"Your word is a lamp for my feet, a light on my path." (Psalm 119:105) – Psalms for powerful prayers for family and friends.
4. Prayer for Strength and Resilience
Heavenly Father, please grant my family and friends strength and resilience in the face of life's adversities.

May they never lose hope, remembering that they can do all things through Christ who strengthens them. Inspire them with the courage to face each day with faith and optimism.

Amen
"But those who hope in the LORD will renew their strength. They will soar on wings like eagles; they will run and not grow weary, they will walk and not be faint." (Isaiah 40:31)
5. Prayer for Health and Healing
Almighty God, I entrust the physical, mental, and emotional health of my family and friends to you. Where there is sickness, bring your healing touch. Where there is despair, bring your comfort and peace.

Let them find rest in your promise that by your stripes, we are healed.

Amen
"But he was pierced for our transgressions, he was crushed for our iniquities; the punishment that brought us peace was on him, and by his wounds we are healed." (Isaiah 53:5)
For example, you can pray for their surgeon's hands to be successful.
6. Prayer for Prosperity and Success
God, I pray that you bless my family and friends abundantly.

Provide for their needs and open doors of opportunities.

Let them prosper in their endeavors, knowing that success comes from you.

Encourage them to commit all their plans to you, for you have plans to prosper them and give them a future filled with hope.

Amen
"For I know the plans I have for you," declares the LORD, "plans to prosper you and not to harm you, plans to give you hope and a future." (Jeremiah 29:11)
7. Prayer for Salvation
Dear Lord, I pray for the salvation of my family and friends. Open their hearts to receive your gift of eternal life. Let them understand the depth of Your love and the sacrifice that Jesus made for us on the cross.

I pray that they confess their sins, accept Jesus as their personal savior, and be born again in spirit.

Amen
"For God so loved the world that he gave his one and only Son, that whoever believes in him shall not perish but have eternal life." (John 3:16)
8. Prayer for Faith
Gracious God, I pray for unwavering faith for my family and friends. In times of doubt, remind them of Your power and Your promises.

Strengthen their faith in Your love and Your word. May they trust in You with all their hearts, leaning not on their own understanding.

Amen
"Now faith is confidence in what we hope for and assurance about what we do not see." (Hebrews 11:1)
9. Prayer for Wisdom
Heavenly Father, I ask for the gift of wisdom for my loved ones. May they seek wisdom in Your Word and Your teachings. Guide their decisions and thoughts with Your divine wisdom, helping them distinguish right from wrong, truth from falsehood.

Amen
"If any of you lacks wisdom, you should ask God, who gives generously to all without finding fault, and it will be given to you." (James 1:5)
10. Prayer for Love
God of Love, I pray that my family and friends experience Your divine love. Let them love one another as You have loved us. May Your love in their hearts drive out any fear, hatred, or bitterness, and fill them with compassion, kindness, and understanding.

Amen
"And over all these virtues put on love, which binds them all together in perfect unity." (Colossians 3:14)
11. Prayer for Patience
Lord, I ask for the gift of patience for my family and friends. In moments of waiting, anxiety, or frustration, help them remain calm and steadfast, trusting in Your perfect timing. Let patience produce in them the fruit of character, perseverance, and hope.

Amen
"But if we hope for what we do not yet have, we wait for it patiently." (Romans 8:25)
12. Prayer for Joy
Almighty God, I pray that You fill my family and friends with joy. Regardless of the trials they face, may they find their joy in You. Let Your joy be their strength, enabling them to face each day with gratitude and positivity.

Amen
"The joy of the Lord is your strength." (Nehemiah 8:10)
13. Prayer for Forgiveness
Dear Lord of Mercy, I stand before you today to intercede for my family and friends. In this world filled with hurts and offences, it's not always easy to forgive. I pray that you fill their hearts with your divine love, which surpasses all understanding, enabling them to extend forgiveness even when it's hard.

May they find it within themselves to let go of past wrongs, to not hold any grudges, and to release any anger, resentment, or bitterness. Remind them of how freely and abundantly You have forgiven us, and help them to do likewise.

Amen
"Be kind and compassionate to one another, forgiving each other, just as in Christ God forgave you." (Ephesians 4:32)
14. Prayer for Grace
O God of all Grace, I come to you in prayer for my dear ones. Life can often be challenging and the road rocky, but I am comforted knowing that Your grace is sufficient.

Let them experience your grace in every situation they face. When they falter, when they fall, when they are weary, may they find solace and strength in Your abundant grace.

May Your love pour over them, washing away their fears and doubts, and filling them with the sure knowledge that they are held securely in Your hands.

Amen
"But he said to me, 'My grace is sufficient for you, for my power is made perfect in weakness.'" (2 Corinthians 12:9)
15. Prayer for Humility
Dear Father in Heaven, in a world that often values pride and self-promotion, I pray for the gift of humility for my loved ones. Help them to emulate the humility shown by Your Son, Jesus Christ. Teach them to be humble in spirit, to value others above themselves, and to serve with a willing heart. Remind them that true greatness in Your kingdom comes not from being served, but from serving.

Amen
"Do nothing out of selfish ambition or vain conceit. Rather, in humility value others above yourselves." (Philippians 2:3)
16. Prayer for Generosity
Generous God, in a world filled with needs, I pray that you instill a spirit of generosity in the hearts of my family and friends. May they find joy in giving and serving, reflecting Your love and generosity. Help them to be a blessing to others, sharing their resources, time, and talents without reservation. Let them trust in Your promise that as they give, so shall it be given unto them.

Amen
"A generous person will prosper; whoever refreshes others will be refreshed." (Proverbs 11:25)
17. Prayer for Contentment
Heavenly Father, I lift my family and friends to You, praying for the gift of contentment. Amid the shifting seasons of life, whether in abundance or in want, in joy or in sorrow, help them find contentment in You.

Remind them that earthly possessions are fleeting and that true satisfaction and peace come from a relationship with You.

May they be grateful for Your daily provision and trust in Your perfect timing for everything.

Amen
"I have learned to be content whatever the circumstances." (Philippians 4:11)
18. Prayer for Courage
Father of all comfort, I pray that You infuse my family and friends with courage. In times of fear or uncertainty, remind them that You are with them, that they should not be afraid or dismayed. Let them face challenges with courage, knowing that with You by their side, they can conquer anything.

Amen
"Have I not commanded you? Be strong and courageous. Do not be afraid; do not be discouraged, for the LORD your God will be with you wherever you go." (Joshua 1:9)
19. Prayer for Thankfulness
Lord of all blessings, I pray for a spirit of gratitude in the hearts of my loved ones. Help them to see Your blessings in their lives, no matter how small or big they may be.

Instill in them a grateful heart that continually praises You for Your goodness and faithfulness.

Amen
"Give thanks in all circumstances; for this is God's will for you in Christ Jesus." (1 Thessalonians 5:18)
What is a Strong Prayer for Family and Friends?
Above are some powerful prayers for family and friends. Now, here is a special prayer we have crafted for you. Note that it does not matter how you craft your prayer; what matters is how involved and faithful you are.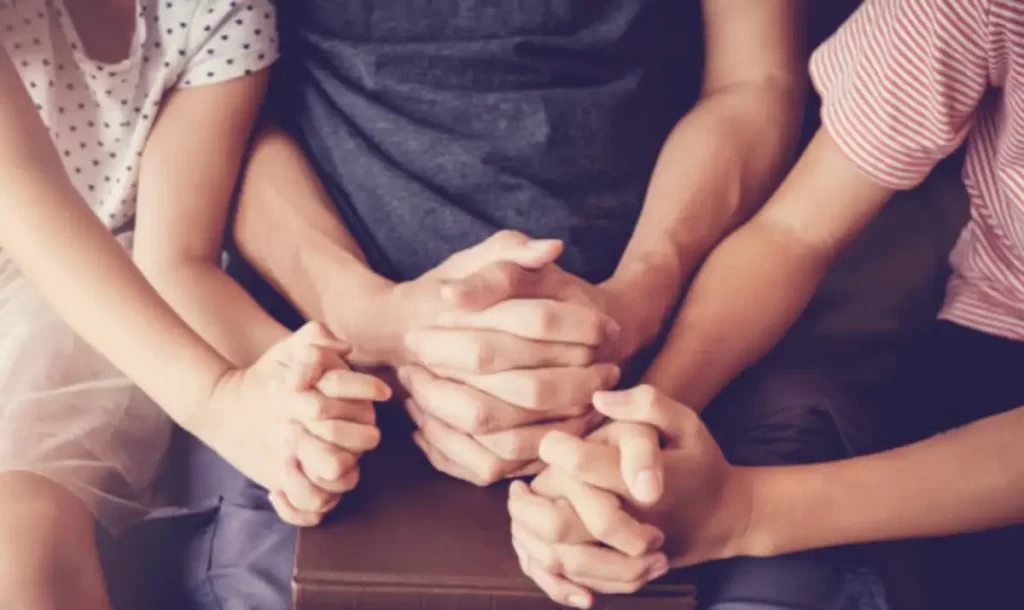 Dear Heavenly Father,
I come before you today with a heart full of gratitude. I thank you for my family and friends, who are like branches of a tree in my life. Each one, unique in their own way, adds strength, color, and charm to my life.
Lord, I ask you to be like the sun that warms each branch. Please guide them in all their endeavors. Like a lighthouse guiding ships in the dark, may your wisdom light their paths, helping them navigate the many turns and crossroads of life.
I pray, O God, for your protective cover, much like a bird that shields its chicks under its wings. Protect them from any harm, physical or emotional, and keep them safe in your loving care.
And finally, Lord, I pray for your life-giving water to nourish their souls. May they grow in their faith and love for you, bearing fruits of love, joy, peace, patience, kindness, goodness, faithfulness, gentleness, and self-control.
In Jesus' name, I pray. Amen.
Frequently Asked Questions
Below are some commonly asked questions on powerful prayers for family and friends:
What is the most powerful Prayer for family?
Prayer: Heavenly Father, may your divine protection envelop my family, leading and safeguarding them. Grant them the strength to place their trust in you every day and accompany them in their daily endeavors.
What is a powerful Prayer to protect my family?
Dear God, I seek your assistance and protection for my family as they leave home today. May an angel watch over them, ensuring their safety and guiding them away from harm's way. In Jesus' name, Amen.
What is the powerful morning Prayer for my family and friends?
Dear Lord, I pray for my beloved family and friends this morning. Grant them the strength to place their trust in you, knowing that those who do so will never be disappointed (Psalm 25:3). May your presence be their comfort during challenging times, reassuring them that you are always by their side.
What Psalm is protection prayer for family?
Psalm 91:4 – "He will cover you with his feathers, and under his wings you will find refuge; his faithfulness will be your shield and rampart."
Read also: Miracle Prayer for Impossible Situations [with Bible Verses]